Jurassic World: Dominion Dominates Fandom Wikis - The Loop
Play Sound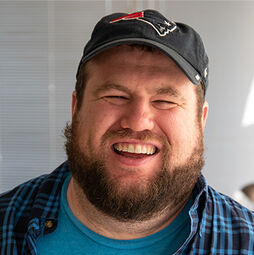 Mike Mitchell is one of the hosts of Doughboys, as well as the founding member/leader of Spoonation.
Born on October 6 1982 and originally hailing from Boston, Massachusetts, Mitch used to row in a crew in college but quit after his freshman year at Ithaca College which he graduated from. Mike got his start in comedy at the Upright Citizens Brigade theater in Los Angeles and followed classes there lead by Matt Besser and was a PA on the simpsons for a couple years.
Mike first got his comedy start as a member of the comedy group the Birthday Boys who once had a show IFC ran for two seasons he now is the head writer on Hidden America with Jonah Ray and plays the critically acclaimed role of Randy Monahan in Netflix's love.
Mitch holds several controversial views such as believing that cupcakes are pie, Harry Potter is garbage and that The Force Awakens is the worst Star Wars movie. Mitch's character of choice in Mario Kart is Toad, stating that he prefers the faster acceleration of that character compared to the others.
Beloved pet owner since mid 2016 of two cats called Wolly and Irma. Since February 2017 the podcast has been recorded at Mitch's house called 'The Litterbox'
Feral Audio Description
Mike Mitchell is a writer, actor, and comedian from Quincy, MA. His credits include Parks and Recreation and IFC's The Birthday Boys. He has loved food his entire life and is happy he finally found an outlet to talk about it.
Nicknames
Mitch
The Spoonman
Mitchy Two Spoons
Spoon
The Artist Formerly Known As Spoon
Racist Wario
Pre-Ghost Slimer
Wreck-It Ralph on a Bender
Less-articulate Hodor
The Jason Voorhees of Podcasting
Dipshit Grimace
Mr. Slice